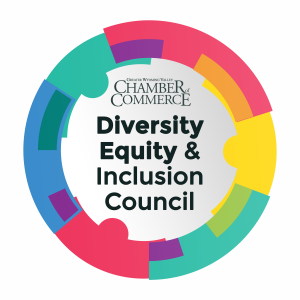 The Greater Wyoming Valley Chamber of Commerce's Diversity, Equity, and Inclusion Council looks at the Greater Wyoming Valley Chamber's diversity initiatives, ensures inclusion in Chamber programs and policies, and works towards a more equitable future for all in the Wyoming Valley.
Want to stay updated on what this council is doing? Click HERE to sign up for news and communications!
Now Accepting Nominations!
For Diversity month in April, the DEI Council is highlighting leaders locally who are involved in diversity, equity, and inclusion causes and initiatives in our community.
We are currently accepting nominations for individuals to be a part of this campaign, which will include a post highlighting the individual, as well as a graphic piece of the individual to be shared across our social media platforms.
Applications are due on April 2nd. Nominate here!
Save the Date for the 2023 Diversity, Equity, and Inclusion Forum, happening in-person at Wilkes-Barre's THINK Center!
ICYMI: Our DEI Forum Helped Us Celebrate Diversity Month In April 2022. Click The Image Below To Access The Full Playlist Of Recordings For Each Session!
Here Are Some Handy Toolkits for Your Business to Download and Use for Your DEI Efforts:
This is an ever-growing list of resources. Please check back often as we expand our library of guides and tools!
Greater Wyoming Valley Chamber Diversity, Equity, and Inclusion Council Leadership:
Want to get involved? Join the Greater Wyoming Valley Chamber DEI Council!