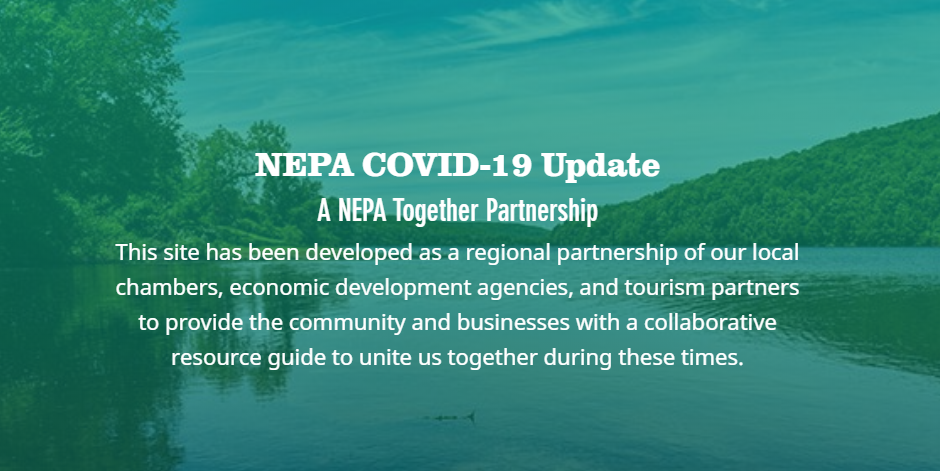 We have also developed a new web page with Discover NEPA, as part of a regional partnership to provide the community and businesses with a collaborative resource guide to unite us together during these times.
Through this site, we are working with our chambers and partners across the region to assist individuals in our community in finding the resources you need, and, for our businesses, to assist with getting your message out there to the community and to provide you with the support you may need.
We encourage you to share with us and to share with others, as we all work together as a united community.
Business & Industry Resources
Resources for Remote Teams
Small Business Emergency Financing
Covid-19 Recovery:  Financial Assistance
There are currently two federal loan options available through the CARES Act to provide funding to your small business: The EIDL (Economic Injury Disaster Loans) and the Payment Protection Program (PPP) These federal programs are offered through the US Small Business Administration and require the assistance of SBA certified lenders (typically your Financial Institution).  At this time, we recommend you contact your financial institution to find out more information on the programs, including eligibility and the application process. For more information on these program, please see the links below.
Wondering where to check the status of your EIDL application? Applicants can call or email customer service at SBA using their application number to check the status of their application.
Shuttered Venue Operators Grant
Guide to Small Business COVID-19 Emergency Loans
SBA Express Bridge Loans Overview 
U.S. Department of the Treasury Paycheck Protection Program Application Forms and FAQs for Both Borrowers and Lenders
Find a Nearby Lender Eligible to Issue a Loan Under the Paycheck Protection Program
After You Apply - Paycheck Protection Program Guidance from the PA SBDC
NOW AVAILABLE: Paycheck Protection Program Loan Forgiveness Application
The Coronavirus Emergency Loans Small Business Guide and Checklist by the U.S. Chamber of Commerce
The SBA's Economic Injury Disaster Loans (EIDL) Guide by the U.S. Chamber of Commerce 
Guide to the Employee Retention Tax Credit​ by the U.S. Chamber of Commerce 
Guide to Coronavirus Paid Leave Programs Guide by the U.S. Chamber of Commerce 
PUA Benefits Portal for Initial Claim and Weekly Filings 
SBA Programs - Scams and Fraud Alerts
---
In order to help the small business community in the Wyoming Valley, Wilkes-Barre Connect, the Entrepreneurial and Economic Development armof the Greater Wilkes-Barre Chamber, is working with our regional economic partners, including:  the Greater Scranton Chamber of Commerce (and their affiliate MetroAction), Hazleton CANDO, NEPA Alliance, and the Small Business Development Centers at the University of Scranton and Wilkes University, to keep you updated on opportunities on the local and state levels as they become available.
To subscribe to updates on funding as it becomes available, please CLICK HERE to fill out a brief survey.