What is the Young Professional Giving Circle (YP Giving)? 
YP Giving is a philanthropy program established in 2022 that is run through the Greater Wyoming Valley Chamber of Commerce, The Luzerne Foundation, and AllOne Charities, in partnership with the Chamber's Regional Young Professionals Network.
This program introduces young professionals in the Greater Wyoming Valley the opportunity to leave a lasting impact on their community through a local giving platform, and also helps to cultivate our next generation of philanthropists.
Donations can be made in a variety of tiers that allow young professionals to contribute at their financial comfort level, to create an inclusive and accessible philanthropic experience.
All donors who participate in this program will have the ability to vote on one of the YP Giving nonprofit finalists, to pick the year's winner. That organization will receive a grant from the fund to help them accomplish a community project that aligns with the focus area of the grant program for that year.
2022 Grantee: Fork Over Love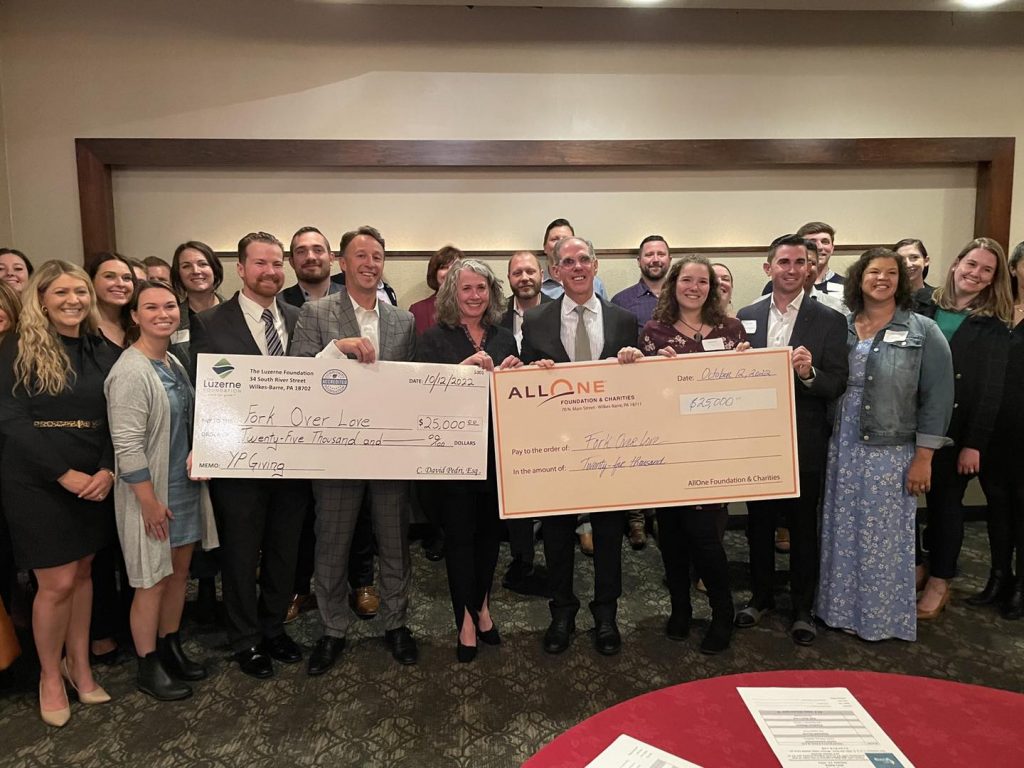 In 2022 the group awarded a $50,000 grant to Fork Over Love to help them alleviate poverty in Luzerne County.
The Luzerne Foundation
Thee Luzerne Foundation works to enhance the lives of Luzerne County residents by evaluating and addressing community needs through strategic grantmaking, promoting responsible philanthropy, and connecting donors to causes that matter to them.
AllOne Charities
AllOne Charities helps with sustaining local and regional non-profit organizations whose initiatives help to address some of Northeastern and North Central Pennsylvania's most pressing health challenges.
Greater Wyoming Valley Chamber of Commerce
The Greater Wyoming Valley Chamber of Commerce is a member-driven organization representing hundreds of businesses and organizations, focused on helping members grow and succeed in Northeastern PA.
Regional Young Professionals Network
The Regional  Young Professionals Network plans and assists the young professionals of Greater Wyoming Valley to improve their careers, develop their leadership abilities, build their professional networks, and give back to the community.