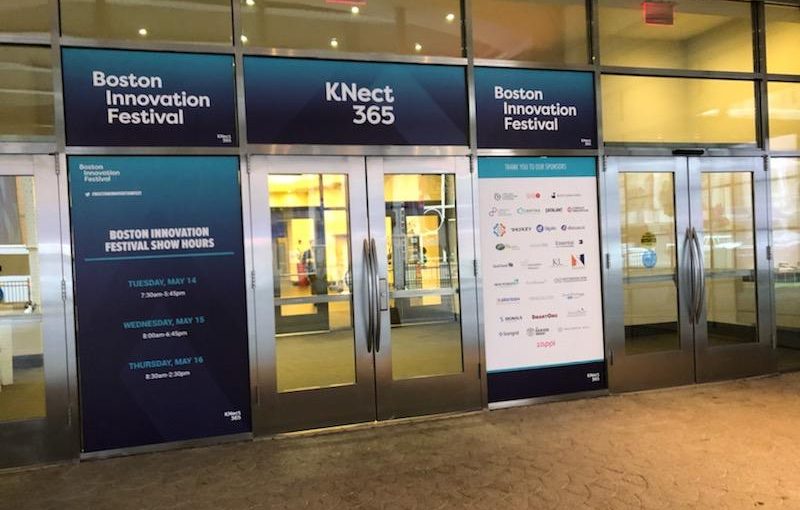 Pre-Event – "Overcoming Fear"
After months of telling every single person willing to listen to me about the Boston Innovation Festival, it's finally here.  The thrill of being asked to participate back in November 2018, finally wore off in time for me to focus on my presentation the past two months.  I was asked to present in the Enterprise Design Thinking Summit portion of the festival.  And just when I had the confidence I needed to feel like I deserved to be on the stage – FEI released a marketing piece on the Enterprise Design Thinking Summit, promoting a one-day summit "featuring some of the leading minds in design and innovation" and that fear came right back.  I would share the track stage with some of the most innovate and successful thought leaders in the US – including Jamin Hegeman, VP Design of Capital One, Lisa Marchese, COO of WITKOFF, Oen Michael Hammonds, Design Principal of IBM, and Henry Chesbrough, Faculty Director of the UC-Berkeley-Haas School of Business.  However, once again, the fear subsided, and the past two weeks I worked day and night on my presentation that would introduce the world to Wilkes-Barre Connect.  But low and behold, that fear bubbled up once again on my drive to Boston when Ram Katamaraja – Founder of Colaberry and SOLVER at Solve-MIT, messaged me that he is fascinated with my work and was looking forward to my presentation.  Wow.  The fear so intense that it distracted me from the downpour I was driving through.  But after arriving in Boston Monday night  – and settling in with a pint of Guinness from the famous Black Rose – I finally was able to relax, breathe, and transform that nervous energy into the confidence I needed to represent NEPA this week at the Conference.  Connect belongs on this stage.  It is time to tell our story.  And there is no better place to launch then at the Boston Innovation Festival.
Day One – "Never Be Okay with Mild Salsa"
Only one way to start the day in Boston – with a stop at Dunkin before entering the Seaport World Trade Center – my home away from home for the next three days and the site of the Boston Innovation Festival.  I arrived super early to check out the space, specifically where I was going to speak on Thursday.  It provided me with a great opportunity to mentally prepare for my presentation.
Arriving early also provided me with the opportunity to get some one-on-one experiences with some of the exhibitors.  The first stop – The Garage Group.  The Garage Group is a battle-tested, lean innovation and growth strategy firm that has spent the last 8 years leading large corporations, such as Nike, Kimberly-Clark, American Express, and MARS to apply startup-inspired approaches against their toughest innovation and growth challenges.  I was privileged to have an opportunity to chat with Jason Hauer, their CEO and Founder.  My biggest takeaway, outside of their impressive portfolio, was their focus on recruiting startup teams to conceptualize and launch the new and innovative ideas generated from the process.
Next stop was bitsurf, where I had the opportunity to meet with Tracey Dodenhoff their CEO, and good friend of Julie Anixter.  Bitsurf tranforms your pipeline of emails, attachments and other content into a manageable, automated play list, allowing you the opportunity to watch, listen, comment on, favorite and share content through media platforms.  My first win of the day.  Tracey and I exchanged information to discuss a potential partnership with Connect, to assist in the state and national roll-out of our Direct Effect Innovation Challenges (partnership with the USPS).
Now it was on to the main stage for the conference welcome and first of several featured speakers.  I had two main takeaways from the morning session – one bit of technology and one part motivational.  On the technology side, the presenter used Slido – an app which allowed for real-time feedback from the audience.  It was an amazing component to integrate into a usually straight-forward power point presentation.
The motivational bit really hit me hard.  Shawn Nason, CEO & Chief Ecosystem Disruptor of the Nason Group, delivered this line as his welcome: "never be okay with mild salsa."  At its surface, it sounds ridiculous, but when placed in the context of his presentation, it resonated tremendously – not just personally, but with what we are trying to do with Wilkes-Barre Connect.  Nason went on to describe how as innovators you should never be okay with mild salsa, but to find the hot salsa or "fire"…always find your fire or passion.  Such a simple statement, with a powerful message.
The remainder of the day was essentially divided into two components for me personally:  track sessions and networking.  Both provided significant opportunities to understand the existing innovate processes and platforms that can provide true value to Wilkes-Barre Connect and Northeast PA.  That is how I approached both components.
In terms of track sessions, I was able to hear from some of the best thought leaders in the US.  Some of the highlights included Tim Allen from Microsoft presenting on "Recognizing Exclusion in AI" and William Singleton and Jayesh Shah from Mars Wrigley presenting on "Breaking Innovation Governance."  But for me, my most memorable experiences were focused on two sessions:  "An Interactive Session with the MIT SOLVE Braintrust" and "Disrupting Traditional University and Industry Partnerships."
The Interactive Session allowed me the opportunity to sit in on a ten-person, think session with two members of the MIT SOLVE team:  Melissa Corto (Education Modified) and Ram Katamaraja (Refactored.AI).  We talked about ways MIT is disrupting education on the K-12 level (with focus on special education) and redefining the way we measure and deliver job placement and mentorship services.  To have Northeastern PA involved in that conversation was incredible.
The University and Industry Partnerships session was truly remarkable and inspiring as well.  Garret Westlake, PhD, Director of the da Vinci Center at VCU, led us through his journey of changing the way higher education institutions can operate.  He discussed the partnerships he's formed with Pfizer and DuPont – and his ability to utilize students across multiple disciplines to come together to solve short and long-term problems for private industry.  Westlake's importance of experience over theory is best exemplified by his (and VCU's) recent change from requiring faculty members to have master's or doctorate degrees.  Based upon the success and world-wide recognition, Westlake has definitely found a way to disrupt the stagnant education model.
Finally, the networking sessions allowed me to pre-arrange meetings through the Brella app – customized for the conference.  I took advantage of this time to meet and interact in a one-on-one setting with five amazing leaders:  Jordi Rafols, CEO of Innoget.com; Ram Katamaraja, Founder & CEO of Colaberry (and MIT SOLVE); Alex James, Senior Relationship Manager of Addapptation; Michelle Popowitz of UCLA; and Jamin Hegeman, VP Design for Capital One.  The value of these conversations is immeasurable.  For fifteen minutes at a time, I was able to pitch Northeast PA and Wilkes-Barre Connect as an up and coming innovation hub.  Each meeting has already led to secondary meetings to discover ways in which we can partner – whether it is integrating Ram's workforce platform or Michelle's west coast innovation challenges.  Collectively, the conference was worth every second of that collective 1:15.  More importantly, it has me excited at what tomorrow may bring – and what I hope is another day of representing and discovering new partnerships and opportunities to bring back to Northeast PA.
Joseph Boylan is the Executive Director of Wilkes-Barre Connect – the Entrepreneurial and Economic Development arm of the Greater Wilkes-Barre Chamber.  The Boston Innovation Festival takes place at the Seaport World Trade Center from Tuesday, May 14th to Thursday May 16th, featuring presentations from some of the greatest innovative and thought leaders in the world.