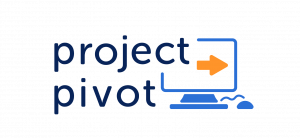 Project PIVOT is a unique, collaborative program created and launched by Wilkes Barre Connect – the entrepreneurial and economic development arm of the Greater Wyoming Valley Chamber of Commerce – that aims to provide accelerated workforce training and upskilling opportunities for workers aligning with the historic and seismic industry shifts caused by the COVID-19 pandemic.
Participants of this pilot program will gain FREE access to 17,000+ online LinkedIn Learning courses until October 2022 as a means of developing themselves professionally and upskilling in the careers and fields of their choice. This program is also designed to work directly with businesses in Luzerne County to provide their employees with the skills they need to grow within their companies. In addition to free LinkedIn Learning access for their staff, businesses who participate in the pilot program with their employees will have the opportunity to work directly with our Project PIVOT team and the team at LinkedIn Learning to develop a specially-tailored pathway that is specific to their company and employee needs. This will help them to take their current workforce to the next level in their skillset, and to address any educational gaps their team may be experiencing.
Thank you for your interest - registration for this program is now closed. 
This project is made possible by a U.S. Economic Development Administration CARES Act investment.
Thank You To Our Core Partners