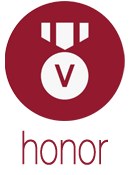 The Wilkes-Barre Connect HONOR program will allow local veterans to network with each other, create meaningful relationships with resource organizations, and explore options to become more acclimated with the business community through hosting connection-building events in collaboration with regional partners.
Get Connected Below with Our Referral Network of Veteran Resource Organizations!
Boots to Business:
Boots to Business (B2B) is an entrepreneurial education and training program offered by the U.S. Small Business Administration (SBA) as part of the Department of Defense Transition Assistance Program (TAP). The course provides an overview of entrepreneurship and applicable business ownership fundamentals. Active Duty Service members (including National Guard and Reserve), veterans of all eras, and spouses are eligible to participate.
Contact:
NEPA PTAC:
NEPA PTAC helps businesses to be able to sell their products and/or services to federal/state/local government agencies and their primes. In addition to the basic registrations to sell to the Federal Government and the Commonwealth, the PTAC Team helps Veteran Owned Small Businesses become certified which opens set-aside solicitation opportunities. They have several successful Veteran Owned Businesses in the region and Luzerne County.
Contact:
NEPA SCORE:
SCORE remains dedicated to its mission of fostering vibrant small business communities through mentoring and education. SCORE, the nation's largest network of volunteer, expert business mentors, is dedicated to helping small businesses get off the ground, grow and achieve their goals. Since 1964, they have provided education and mentorship to more than 11 million entrepreneurs.
Contact:
PA VETconnect at the PADMVA
Through PA VETConnect, veteran advocates have access to the commonwealth's premier information and referral database, compiled specifically to improve the lives of service members, veterans, and their families. The free database is populated with valuable information and resources that will help County Directors of Veterans Affairs and other veteran advocates facilitate delivery of the best possible services to veterans, their families and their beneficiaries. Resource areas include benefits, employment, financial assistance, mental wellness and substance use, post-traumatic stress, and more.
Contact: 
Name: Jennifer Spitler
Phone: 570.445.8255
Email: jespitler@pa.gov

Website:

Home (pa.gov)

 
U.S. Small Business Administration
The U.S. Small Business Administration (SBA) helps Americans start, grow, and build resilient businesses. SBA was created in 1953 as an independent agency of the federal government to aid, counsel, assist and protect the interests of small business concerns; preserve free competitive enterprise; and maintain and strengthen the overall economy of our nation.
Contact:
Wilkes University Small Business Development Center:
The Wilkes University Small Business Development Center (SBDC) Network is dedicated to helping you start and grow your business. We provide training, confidential consulting and market and industry research to help aspiring and existing small businesses make sound decisions for successful operations.
Contact:
Financial Services - Banks
Branch Banking & Trust Company (BB&T)
(570) 331-0336
310 Market St.
Kingston, PA 18704
(570) 826-2632
351 Kidder St.
Wilkes-Barre, PA 18702
(570) 821-8555
64 N Franklin St.
Wilkes-Barre, PA 18701
(855) 713-8001
1065 HIghway 315 Blvd Ste 101
Wilkes-Barre, PA 18702
Fidelity Deposit & Discount Bank
(570) 338-0119
247 Wyoming Ave
Kingston, PA 18704
First Keystone Community Bank
(570) 718-1110
299 Wyoming Ave
Kingston, PA 18704
First National Bank of Pennsylvania
(570) 735-1400
194 S Market St.
Nanticoke, PA 18634
1-877-879-3622
100 S Blakely St.
Dunmore, PA 18512
1 (800) 447-9464
118 Main St.
Luzerne, PA 18709
(570) 821-7102
115 J  Campbell Collins Dr.
Wilkes-Barre, PA 18702
(570) 343-8200
130 N Keyser Ave
Scranton, PA 18504
Peoples Security Bank & Trust Company
(570) 288-0128
435 Wyoming Ave
Kingston, PA 18704
888 PNC-BANK
201 Penn Ave
Scranton, PA 18503
1 (800) 869-3557
11 Narrows Shopping Center
Edwardsville, PA 18704
Financial Services - Grants & Loans
MetroAction:
MetroAction is a non-profit community development organization dedicated to providing small business loans and business development assistance throughout northeastern Pennsylvania (NEPA).
Contact:
SPARK Wilkes-Barre Grant Program
The Spark Wilkes-Barre is a grant program available to entrepreneurs, start-up businesses, or relocating businesses that can be used towards rent in year one of a lease at an approved location within the City of Wilkes-Barre, as well as reimbursable parking fees. There are three tiers of funding available, depending upon where you are in your business lifecycle, and how many employees you currently have. The business applying for grant funding must be located in the City of Wilkes-Barre to be eligible for funding. 
Contact:
Name: Matthew Bickert

Phone:

570-408-1723
USDA:
USDA's vision is to provide economic opportunity through innovation, helping rural America to thrive; to promote agriculture production that better nourishes Americans while also helping feed others throughout the world; and to preserve our Nation's natural resources through conservation, restored forests, improved watersheds, and healthy private working lands.
Contact: 
Community Programs and Resources for Veterans
Camp Freedom: 
Camp Freedom is an adventure camp for disabled Veterans & First Responders, their family members, and Gold Star families providing quality hunting, shooting sports, fishing, camping, hiking, biking, and other year round outdoor activities. These activities remove individuals from clinical settings into the healing environment of the outdoors and nature. They also promote the social well-being of the participants through peer to peer interaction, camaraderie, and outdoor adventures.  Activities are led by Camp Freedom's Staff and experienced volunteers. Camp Freedom provides services to other nonprofits who have a similar mission for a collective impact.
Contact
VA Community-Based Outpatient Clinic:
This outpatient clinic offers primary care and specialty health services, including diagnostic testing and immunizations. 
Contact:
Tobyhanna Army Depot, Building 220
Tobyhanna, PA 18466-5000
Phone: 570-615-8341
Valhalla Veterans' Services:
Their vision is to evolve into a platform where all warriors, first responders, and supporting organizations can come together under one operating network. To effectively provide hope, purpose, and connection to every warrior in need, while creating a cultural change in the way society views, researches, and treats suicide.
Contact:
VA Vet Center:
They offer confidential help for Veterans, service members, and their families at no cost in a non-medical setting. Their services include counseling for needs such as depression, posttraumatic stress disorder (PTSD), and the psychological effects of military sexual trauma (MST). They can also connect you with more support in VA and your community.
Contact:
1002 Pittston Avenue
Scranton, PA 18505
Phone: 570-344-2676
Patriot's Cove:
Patriot's Cove is more than a destination spot for fun vacations. They create healing experiences and promote camaraderie through service to others. Environmental service projects not only provide a new mission for Patriots and Caregivers, but bring good samaritans together to improve the community and Beaver Run waterway. Patriots and caregivers can also get involved as fishing guides, mentors and volunteers. Their mission is to serve those who have served by healing visible and invisible wounds and empowering those they serve by giving them a new purpose in life.
Contact: 
VA Medical Center:
At the VA Wilkes-Barre Healthcare System, their expert health care teams focus on your needs and the needs of other Veterans, your families, and caregivers. Find a healthcare facility near you, and manage your health online. Sign up for community events and updates, and learn what's new at your local VA medical center and clinics.
Contact:
1111 East End Boulevard
Wilkes-Barre, PA 18711-0030
Main phone: 570-824-3521
Mental health care: 570-824-3521 x27738
Valor Clinic:
VALOR Clinic Foundation helps veterans with transitional housing, PTSD- War to Peace transition retreats, and more.
Contact:
Veterans' Promise:
Their promise is to advocate, educate, and raise awareness for all veterans. They will offer outreach for PTSD, suicide prevention, drug and alcohol education, and support to veterans and their families in our community. 
Contact: 
Join us for the HONOR Veterans Recognition Breakfast, happening on April 17, 2023!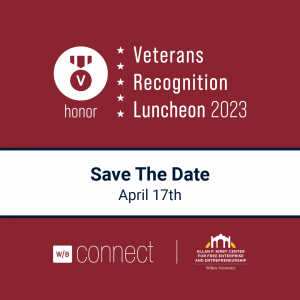 Save the date for Wilkes-Barre Connect's inaugural HONOR Veterans Recognition Luncheon will take place on Monday, April 17th, 2023. In collaboration with the Allan P. Kirby Center for Free Enterprise and Entrepreneurship, this event will aim to recognize the local veteran and veteran entrepreneur community. The luncheon will be a time to come together to celebrate the achievements of veteran entrepreneurs in the Wyoming Valley and foster a strong connection between the Northeastern Pennsylvania veteran network. This year's Keynote Speaker will be Major General (Ret.) John Gronski, who was raised right here in the heart of NEPA. Attendees can expect to enjoy a nice meal, honor those who have served our country, learn more about what this community offers for veterans, and connect with community leaders. During this event, we will also be awarding three veteran entrepreneurs from the Wyoming Valley region with grants to advance their business ventures.