Day 2 at the FEI Boston Innovation Conference with Wilkes-Barre Connect Executive Director, Joseph Boylan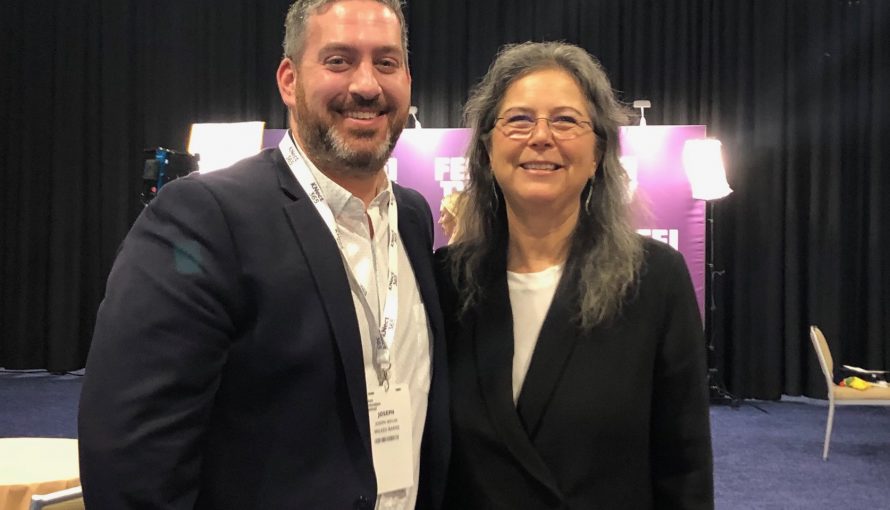 Day Two – "Luck is the Greatest Superpower There Is"
Second day, and another cup from dunkin to start it off.  There's definitely a buzz in the air this morning as Steve Wozniak will take the stage at 9 AM.  The Co-Founder of Apple will not only deliver the main presentation of the day titled "Who Runs the World? Humans." but will also participate in an executive panel debate discussing a bold vision for tomorrow's innovation agenda.  The other panelists include Lisa Skeete Tatum, Founder & CEO of Landit, Leland Maschmeyer, Chief Creative Officer of Chobani, and Ivy Ross, VP, Design for Hardware Products at Google.  One heck of a group to start the day.
Spent the morning finishing my dunkin over a conversation with Richard Miller – a social innovation thought leader who just happens to reside in Tunkhannock, PA.  It took a conference in Boston to finally get us together for a chat.  We talked about some of the incredible work Richard has done, and the need to form a partnership with Wilkes-Barre Connect.  Before we knew it, the music blasts from the speakers.  Its Steve Wozniak time.
And Steve didn't disappoint.  His talk was so personable – I was blown away, along with the rest of the audience.  He wasn't shy in describing how introverted he was as a high schooler, or his early days at HP, or his interesting relationship with Steve Jobs.  He didn't hold back.  Steve implored the audience to "follow the truth" and described his desire from an early age to "be a part of a revolution someday."  He stressed the importance of having team dialogue, not meetings with predetermined outcomes.  And on a personal level, I loved hearing Steve talk about his infatuation with chasing down Bob Dylan artifacts and just his overall sense of humor, noting "Luck is the greatest superpower there is."
The panel that followed – once again featuring Wozniak – was just as good.  The level of innovation and vision, combined with grit and determination on that stage was remarkable.  Whether it was Leland from Chobani providing insight into the high level of confidence he puts in all levels of the organization to generate innovation, or hearing Lisa describe her professional journey, it was truly eye-opening and inspiring.  But for me – the best part of the panel happened once it was over.
I had the opportunity to sit and chat with Ivy Ross – VP, Design for Hardware Products at Google – for about ten minutes.  The experience was incredible.  Being provided time and space to have an interactive discussion with Google about the innovation that is occurring in Wilkes-Barre is insane.  There I was, describing to a Google VP about the THINK Center and our recent partnership with the USPS.  I will never forget those ten minutes.
The momentum from yesterday's tracks definitely carried over to the second day.  Himanshu Sharma from Citi Fin Tech described the critical nature measurement (data and analytics) plays in accelerating and sustaining disruptive innovation.  I followed that up with a great presentation from Bob Dixon, USPS (who happens to be a partner of Connect), highlighting the amazing technology (and future technologies) they are implementing to redefine their model at the US Postal Service.  I rounded out the day with a presentation from Cory Clarke at WeWork, identifying the ways they are using data (and asking the five why's) to provide optimal workplace experiences for their members at 425 locations.
But once again, the best value for me was the one-on-one networking sessions sprinkled throughout the day.  Each one was strategically selected to identify opportunities for Northeastern PA and Wilkes-Barre Connect to expand our capabilities.   I loved my conversation with Ben Strutt, Director, Design and Front End Innovation at Cambridge Design Partnership – exploring opportunities to understand their model and principles we can apply to strengthening our Academic & Industry Partnerships.
I had an amazing conversation with Carie Davis – Chief Strategic Officer for techPublic.  Her personality and energy is contagious.  It's pretty obvious to know why she served as the MC at last year's Boston Innovation Festival.  TechPublic is a commercialization accelerator that focuses on building revenue relationships between startups & corporations.  Carie has spent the last few months developing systems in Calgary and Atlanta, yet she noted how revolutionary the Wilkes-Barre Chamber model is and how we are doing things that no other chamber is doing.  We've already connected to set up a meeting to discuss a partnership with Connect to establish and accelerate our NEPA Regional Entrepreneurial Ecosystem.
There were other great meetings too.  I spent time with Corey Katz from PreScouter and Jackson Giles, the Managing Partner of SoftMatch.  Both meetings were great and super productive.  However, the one meeting that stood out the most was my time with Sharon Bort, Community Relations Officer in Sustainability, for SOLVE-MIT.  SOLVE at MIT is the annual flagship event bringing together mote than 500 prominent cross-sector leaders and the MIT community around SOLVE's mission to address the world's most pressing problems.  After meeting three different times during the day, and describing the vision of Wilkes-Barre Connect and Northeast PA, we identified an opportunity to partner – a partnership in which Wilkes-Barre Connect and our partners in Scranton and Hazleton can develop a farm system to grow and cultivate ideas and groups to enter into the annual MIT SOLVE competition.  It was a moment that truly helped define the positive direction of our region, and ability for Northeastern PA to be a hub of innovation and creativity.
That sums up day two in Boston.  Now it's time to refocus, make some last-minute changes, and nail my presentation tomorrow during the Enterprise Design Thinking Summit.  Tomorrow is a big day.  But long gone are my fears and anxiety.  I'm ready to represent Northeast PA, and show the world who we are and what we are doing.
Joseph Boylan is the Executive Director of Wilkes-Barre Connect – the Entrepreneurial and Economic Development arm of the Greater Wilkes-Barre Chamber.  The Boston Innovation Festival takes place at the Seaport World Trade Center from Tuesday, May 14th to Thursday May 16th, featuring presentations from some of the greatest innovative and thought leaders in the world.